Lutte des classes : les festivals de l'été parisien
En cette période où chaque festival dévoile ses atouts, deux des évènements parisiens majeurs de l'été ne dérogent pas à la règle. Chacun ses moyens, chacun ses méthodes...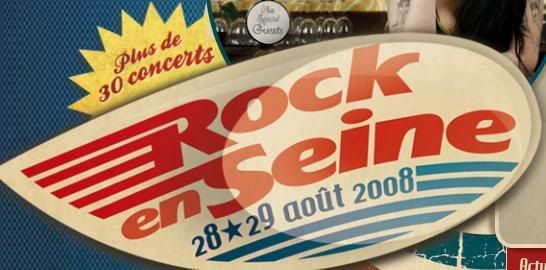 Rock en Seine, premier festival à proposer un partenariat avec la BNP, pour offrir un crédit sur 5 ans, afin de financer l'achat de boissons ET kebab pendant les 2 jours (contre 3 l'an passé) du festival ! On saluera le geste.
Cet endroit ressemble en effet plus à des trois salles parisiennes (genre un Bataclan, une Elysée Montmartre et un Bercy) dont vous enlevez le toit, et où vous rajoutez un soupçon d'herbe, afin de donner cet aspect bucolique que le chaland parisien aime tant.
Car oui, niveau ambiance générale, faune etc, on est plus proche de la fête à Neuneu que de Woodstock. Mais qu'importe !
Avec une habile stratégie de communication, les organisateurs nous jettent REM et Amy "skellington" Winehouse à la gueule, mais laissent filtrer les rumeurs Kaiser Chiefs et Justice et s'amusent à nous laisser croire à The Cure ou Rage Against The Machine...
On espère également Nirvana, Mike Brant et Led Zeppelin.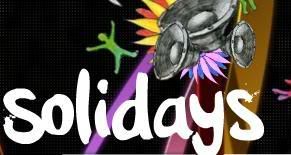 Son alter ego de l'hippodrome de Vincennes a choisi de balancer une grosse salve de noms (la date étant plus proche forcément, on se bouge le fion : début Juillet pour Solidays fin Août pour Rock en Seine):
Yael Naim, The Gossip, Tiken Jah Fakoly, Patrice, Czsaria Evora, Thomas Dutronc, Asa, Moriarty, Foals, Asian Dub Foundation,
Girls in Hawaii, The Hoosiers, The Subways, Alpha Blondy, IAM, Xavier Rudd, Grand Corps Malade, Orchestre National de Barbès,
Beat Assailant, Hocus Pocus, Les Cowboys Fringants, Dub Pistols, Aaron, Dub Inc., Toots and the Maytals, Bumcello, Nneka, Kery James, Cocosuma, Têtes Raides, Deportivo, Rhesus, Empyr, Jim Murple Memorial, Cocoon, Caravan Palace, Java,
Samarabalouf, Yelle, Rose, Psy 4 de la Rime, Sharko, La Caravane Passe, La Chanson du Dimanche, Laurent Garnier, Etienne de Crécy, Vitalic, Don Rimini, Agoria, Brodinski, Beat Torrent, Missill, Dj Soulist, Chinese Man, Midnight Juggernauts, Busy P, Dj Mehdi et Para One.
Très éclectique comme toujours, du coup pas mal de bonne bouses, mais également du bon son (Foals, Girls in Hawaï, subways,...) et de belles soirées électro en perspective (Para One, Vitalic, Midnight Juggernauts...).
Bref, beaucoup y trouveront leur compte, avec de plus un prix très attractif (30€) pour le pass 3 jours !
Espérons que cette édition soit un succès (bonne cause tout ça...), et que les ventes de billets ne finissent pas comme l'an passé avec "un pass offert pour un acheté!" en mode poissonnerie un jour de marché.
Seul gros inconvénient pour moi : il se déroulera le même week-end que l'immense Werchter, donc pas possible cette année de venir me mêler à ce mélange de jeunes en slims, de jongleurs aux dreads poisseuses et aux toto/lolo venus voir l'homme qui fait rimer, d'une voix grave, "couille" avec "nouille", sur un air de jazz.