Le quatuor le plus étrange, dérangeant, conceptuel du moment s'est donc vu offrir une Black Session chez ce bon Bernard Lenoir.
Gage d'une qualité certaine pour les These New Puritans, qui avec leur récent "Beat Pyramid" (2008) ont concrétisé les espoirs placés en eux, depuis leur découverte.Un tube : Elvis, un excellent EP ("Numbers / colours"(2007)), une composition de 17 minutes pour un déflilé Dior : la hype est lancée. Quoique hype n'est certainement pas le bon mot à coller à ces gredins, tant ils ne sont surtout pas à mélanger avec des Klaxons, Wombats, Teenagers and co,...
Ils sont froids, cyniques, décalés... Leurs chansons tournent autour de la numérologie, de l'ésotérisme, sont parfois qu'un ensemble de bruits sourds guidés par un beat asynchrone, le chant est psalmodié plus que chanté,... On est bien loin du recyclage du disco sous acide des Klaxons, ou des textes niais des Teenagers
Il s'agit là de leur 3ème concert en France, après une prestation lapidaire au festival des inrockuptibles en novembre dernier, au Zénith, en ouverture d'une improbable soirée précédant Does It Offend You, Yeah?, I'm From Barcelona et Bloc Party, et une flèche d'or il y a quelque semaines.
Ce Zénith, que je n'aurais raté pour rien au monde (au moins pour les 2 premiers groupes de la soirée), fut surprenant. A peine 25 minutes de show, et ce sera le seul groupe de la soirée qui me restera en tête. Court, tendu, intense, étrange... A peine le temps de regarder les visages étonnés des autres personnes découvrant les These New Puritans, qu'ils étaient déjà partis.
"heu, il s'est passé un truc là non?"
Ouais.
Voilà donc les titres de cette Black Session, qui, en raison du peu de chansons du groupe, ne durera que 45 grosses minutes au lieu de l'heure habituelle. Cela permit à Mr Lenoir de nous passer en préambule le dernier single de dEUS - The Architect.

01 - Intro
02 - Tracey Emin(?)
03 - Numbers
04 - Swords of truth
05 - C. 16th
06 - Colours
07 - fff
08 - En papier
09 - Elvis
10 - 4£
11 - Dollepganger + Infinity ytinifni
12 - fin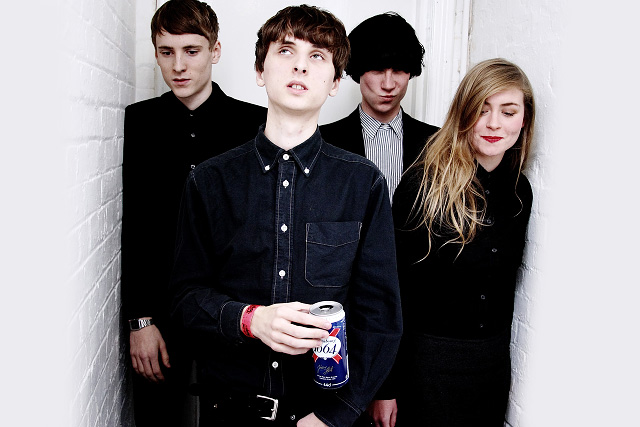 Habillé d'un costume d'écailles métalliques, Jack Barnett nous débita ses textes les yeux parfois révulsés, pendant que son jumeau Georges matraquait ses fûts avec force. Ajoutez à cela un bassiste dont "sourire" doit être synonyme d'arrachage d'un orteil avec un tournevis rouillé(comme tous les autres remarque), et un fille décédée au clavier.
Peut être brouillon par moment quand on les découvre, ce fut pourtant une prestation maîtrisée de bout en bout de la part des These New Puritans. Chaque bruit, chaque son, chaque nappe est calculée avec précision, chaque beat, chaque CHTAKPOUM est envoyé avec justesse.
Impatient de les revoir dans un contexte plus "live", moins feutré : rendez vous à la maroquinerie le 15 mai (avec Lightspeed Champion)

These New Puritans - "Beat Pyramid" (2008)


1. ...Ce I Will Say This Twice
2. Numerology (Aka Numbers)
3. Colours
4. Swords of Truth
5. Doppelgänger
6. C. 16th
7. En Papier
8. Infinity Ytinifni
9. Elvis
10. 4
11. Mkk3
12. 4
13. Navigate-Colours
14. H.
15. Costume
16. Navigate, Navigate
17. I Will Say This Twi...


These New Puritans - "Elvis" (Ep - 2008)

1. Elvis
2. fff
3. Hyperfavela (Loops gold song)
4. Rock n roll baby


These New Puritans - "Numbers/Colours" (EP - 2007)

1. Numbers
2. Colours